Full back swivel bar stool
Black metal base with chrome foot ring
Vinyl black seat
500 lbs. weight capacity
Stool seat height 30"
16"D x 17"W x 42"H
Modesto Single Ring Swivel Bar Stool with Black Base and Black Vinyl Bucket Seat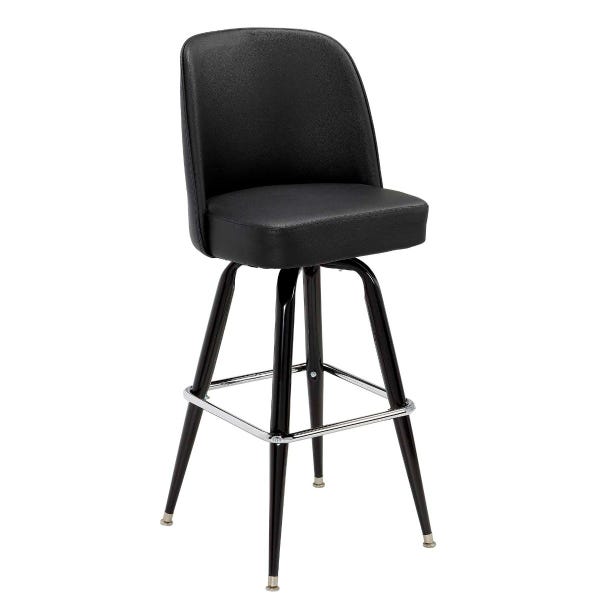 The Modesto Single Ring Swivel Bar Stool with a black base and black vinyl seat is a sleek and stylish design tailored for restaurant, bar, and cafe owners seeking to enhance their seating experience. Crafted with meticulous attention to detail, this bar stool offers functionality, durability, and aesthetic appeal.
Designed for comfort and convenience, the full-back swivel bar stool invites patrons to unwind and socialize while enjoying their favorite beverages and dishes. The black metal base is accentuated by a chrome foot ring that adds a touch of modern elegance but also ensures stability and longevity, even in high-traffic environments.
The vinyl black seat exudes a chic look and offers easy maintenance, making it ideal for busy establishments. Its resilient material withstands the rigors of daily use, while the ergonomic design provides optimal support for extended sitting.
Boasting a remarkable 500 lbs. weight capacity, this bar stool accommodates a wide range of patrons, ensuring inclusivity without compromising on comfort. The stool's seat height of 30" aligns perfectly with standard bar counters, promoting a seamless dining and socializing experience.
With dimensions of 16"D x 17"W x 42"H, this bar stool strikes the ideal balance between space-saving design and comfortable seating. Its compact footprint allows efficient space utilization, enabling you to maximize seating capacity without sacrificing comfort.
Ideal for bustling restaurant, bar, and cafe settings, the Modesto Single Ring Swivel Bar Stool harmonizes practicality with sophistication. Elevate your establishment's ambiance and customer satisfaction by choosing a seating solution that resonates with your brand's aesthetic and offers patrons a memorable experience. With every aspect carefully considered, this bar stool is a testament to quality craftsmanship and a worthwhile addition to any hospitality space.
More Information

| | |
| --- | --- |
| SKU | 771513K |