Sanitizing Food Contact Surfaces & Equipment
150 tablets per bottle

Tablets dissolve in water producing a distinct, clear, pale blue sanitizing solution

Convenient tablets eliminate the handling and storage of bulky sanitizers

Economical over liquids

Approved by the EPA
S150E48 Steramine Sanitizer Tablets (Sanitabs) 150 Count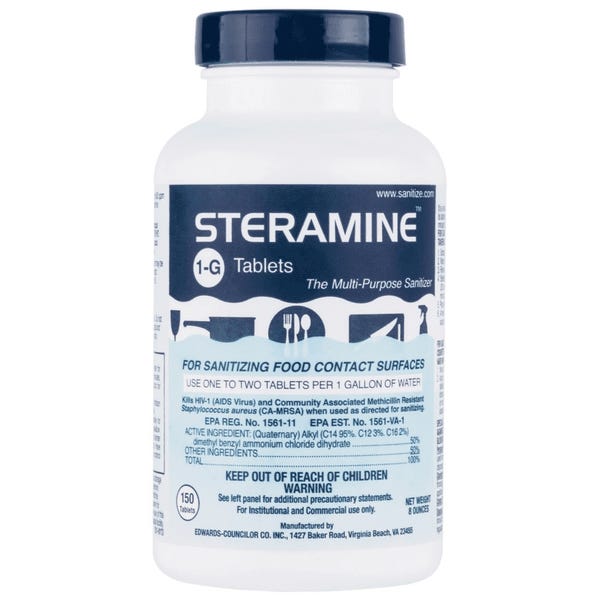 Steramine Sanitizer Tablets are used to sanitize food contact surfaces and equipment in Restaurants, Bars, Daycares, Gyms, Assisted Living Facilities, Hotels, Schools and other industries. This product fulfills the sanitizing criteria of the U.S. Public Health Service.
STERAMINE SANITIZING TABLETS are approved by the EPA and accepted by the USDA as a safe and effective sanitizer for glassware, countertops, tables, utensils, beverage equipment, frozen dessert machines, scuba equipment and any other food contact surfaces and equipment to kill:
CA-MRSA (Community Associated Methicillin Resistant Staphylococcus aureus)
Escherichia coli
HIV-1 (Aids Virus)
Listeria monocytogenes
Staphylococcus aureus
Pre-measured – it's easy to use.
Simply use 1 tablet per gallon of water to accurately and easily prepare your sanitizing solutions at the proper concentration required by Health Department Regulations.
Visible – it turns water blue.
Tablets dissolve in water producing a distinct, clear, pale blue sanitizing solution which tells operators and inspectors at a glance that this sanitizer is in the final rinse sink.
Economical – it's super concentrated.
These convenient tablets eliminate the handling and storage of bulky sanitizers; they end guesswork in measuring and prevent loss from breakage, spillage, or waste. Sanitizing solutions are long-lasting and usually remain effective all day. All of these advantages are available at an economical cost of only pennies per gallon.
Shipping cost are less per gallon because TABLETS are 50% active; liquids are only 2% to 12% active. You're not paying to ship water!
Why Sanitize?
Microbial contamination is the food industry's main safety concern. Public Health Regulations require that all inanimate food contact surfaces be properly cleaned and sanitized to protect the public health from exposure to the hazards of disease transmitted through the cross-contamination of surfaces soiled with infectious micro-organisms.
The soiling of food contact surfaces with germs takes place in the normal course of preparing, handling, and consuming food. Any surface which comes in contact with uncooked meat, poultry, or fish may become contaminated with bacteria such as E. coli. EPA has recognized that surfaces and articles such as glasses, dishes, and utensils that become soiled with infectious microorganisms found in bodily fluids (saliva and/or blood) can be associated with potential for the transmission of disease, including HIV-1 (AIDS Virus) through cross contamination. Persons with infectious diseases patronize public eating and drinking establishments and can create a potential for the spread of disease.
Related Categories: Heavy Duty Gloves | Hand Soap & Sanitizer Dispensers | Cleaning Supplies