---
Restaurant Equippers History
In the early 1960s, Morris Dach, a successful restaurateur for more than 20 years, began buying and selling used restaurant equipment from his garage to help friends in the food service business. He loved finding cost-efficient ways to help other restaurateurs start and expand their businesses, and along the way, he developed relationships that lasted for decades.
In 1966 Morris opened an equipment warehouse store in Columbus, Ohio – offering food service equipment and supplies direct to operators throughout the area.
The business venture quickly became successful, and Morris developed trusted relationships with many leading manufacturers in the industry, adding a constantly growing inventory of new equipment and supplies to his store.
Knowing what his fellow food service operators needed, Morris purchased his products in huge bulk lots rather than to fill individual customer orders. Warehousing huge inventories in his Restaurant Equipper's Warehouse Store, Morris eliminated traditional industry lead time, providing immediately available new and used products to the public at BULK PRICES NORMALLY AVAILABLE ONLY TO LARGE CHAINS.
As the business grew, Morris stubbornly refused pressures to add what he considered unnecessary "frills," including commissioned sales representatives, glossy catalogs, route deliveries, design services, and customer credit programs. Instead, Morris hired former food service operators like himself — paying them salaries to HELP customers rather than commissions to maximize sales. He developed state-of-the-art warehouse systems, facilities, and shipping methods to service his customers more and more efficiently.
"Our business is about helping customers save money," he always said. As usual, Morris was right. Restaurant Equippers soon became one of The Largest Restaurant Equipment Warehouse Companies in the Country and a highly trusted national mail-order supplier efficiently providing low prices to food service operators nationwide.
Morris Dach passed away in 2003 and continues to be missed by the company and its longtime customers. However, Restaurant Equippers continues to grow and expand nationally, opening a 200,000 square foot distribution center in 2003 to ensure items are always in stock for immediate shipment. In 2005 Restaurants Equippers opened an online store, Equippers.com, to allow customers to shop 24 hours a day, seven days a week.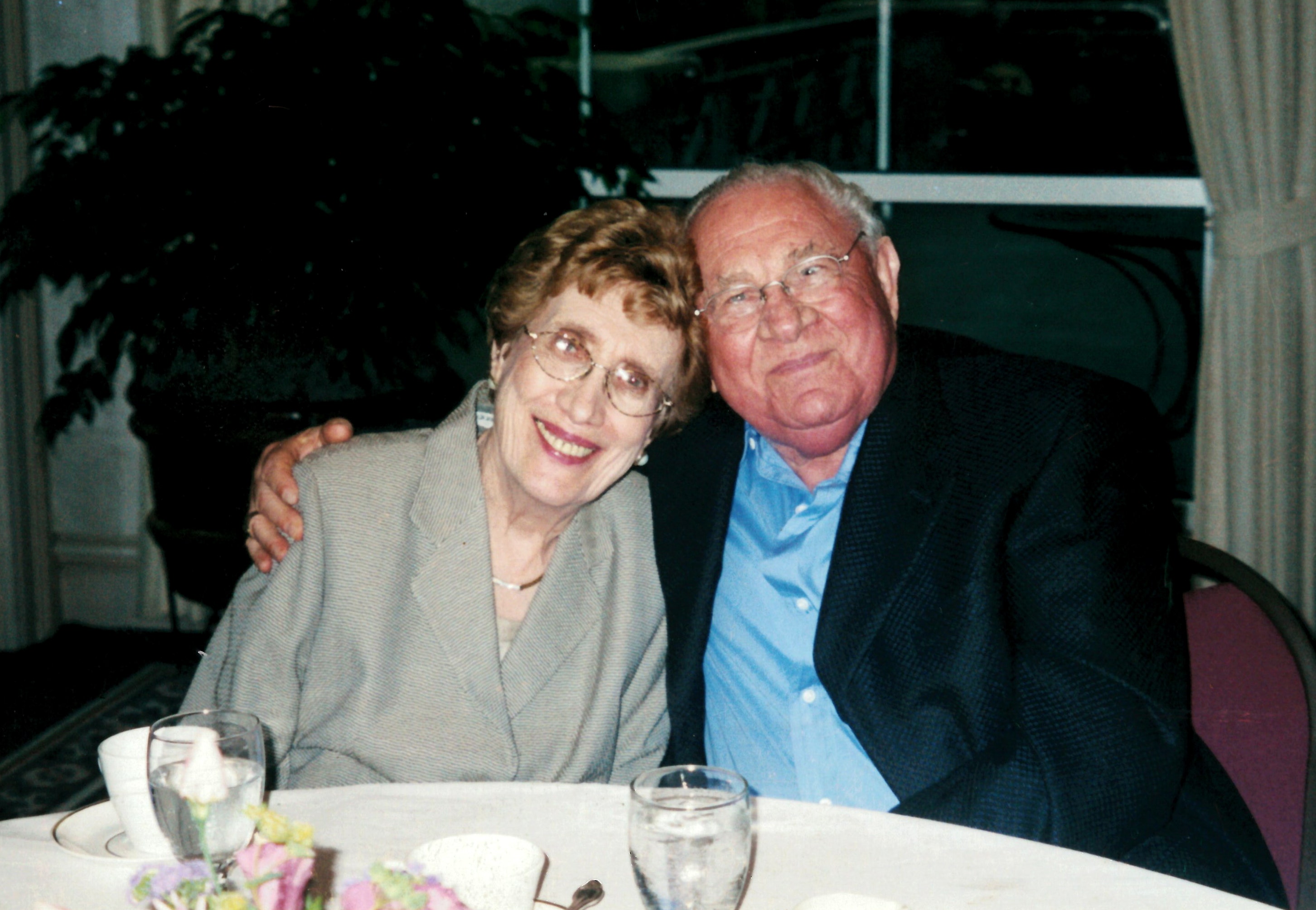 Morris Dach, right, and his wife Marian. Morris and Marian worked side by side in business for more than half a century.
Morris's family continues to run the company. The team who helped Morris build Restaurant Equippers remains dedicated to efficiently providing the most trusted and dependable everyday low prices and special bargains than anyone else in the industry.
What once was only a handful of food service operators in Columbus, Ohio, is now a growing legion of more than 100,000 cost-conscious food service operators, benefiting every day from the principles Morris Dach developed in the early 1960s: Low prices, immediately available products, efficient and friendly customer service, and "no frills."
The spirit of Morris Dach continues to be the cornerstone of Restaurant Equippers' nationwide growth to this day.
---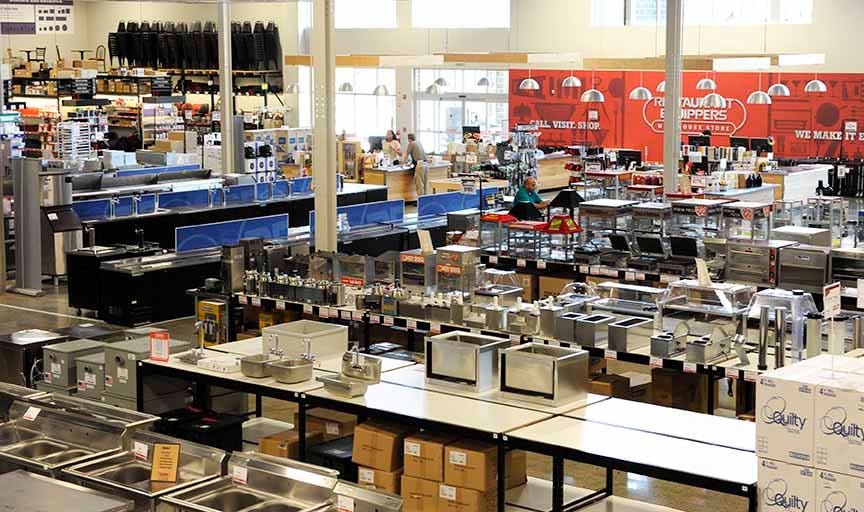 The Largest IN-STOCK Inventory of Restaurant Equipment and Supplies in the United States
With more than 1,000,000 square feet of warehouse inventory, a large and experienced staff, and a nationally distributed cost-saving catalog, Restaurant Equippers is one of the industry's largest equipment and supply businesses. We provide fast and trusted service to a growing legion of hundreds of thousands of loyal food service operators.
We're a privately owned family business serving the food service industry for more than 55 years. With a vigilant eye on keeping prices low, we buy in massive lots and eliminate unnecessary frills. With no commissioned salespeople, no glossy catalog, or slick in-house design services, our focus remains on solving your problems by providing honest answers and food service equipment and supplies at low warehouse prices every day. The equipment you need is available for immediate in-store pickup or scheduled delivery from our warehouse stores located in Columbus, Ohio, Detroit, Michigan, or the Greater Philadelphia, Pennsylvania, area. Plus, you can call our Nationwide Order Office toll-free at 888-430-1655 or buy online 24/7 at Equippers.com, all with the mission of making sure your shopping experience is easy.
---
What Our Valued Customers Say
At Restaurant Equippers we pride ourselves on delivering excellent service. But don't just take our word for it. See what our valued customers have to say.
"I have been a customer of Restaurant Equippers since 2015, when I opened my very first location. Now seven restaurants in, and when I say they are the best group of people in this service industry I have ever worked with, it is an understatement. I absolutely love shopping here for my restaurants. The help and knowledge of equipment are unmatched. Even though Denise has taken care of me since my first purchase, everyone makes me feel welcomed and loved when I come in. It's literally like a family. each one of these individuals has done so much for me. From Emily to Adam to Scott to Tavie and last but not least, Denise. I will never get my equipment from anywhere else. I really appreciate them all. Thanks for always making me feel special and always taking care of my needs they all are TOP NOTCH!!"
-- The Pit BBQ Grill, New Albany, Ohio
"We love to go to Restaurant Equippers, we know everybody. Everyone is nice... and they have a the greatest pirces all around in Ohio."
-- Konnichiwa Japanese Steak House & Sushi, London, Ohio
"I went to your Southfield, Michigan, location and worked with Marianne. I was shopping for an entire restaurant that we are building, and she was so patient with me, answered all of my questions, and I hit her with the DTE energy rebates (which I was able to take advantage of) and then hit her again with doing your finance plan... I will absolutely be back to contiue to purchase our items from Restaurnt Equippers and will always ask for Marianne!"
-- Anonymous from website chat
"This is our second order from you. A month or two ago we received 12 barstools from you and we were simply ecstatic about your great service and prices!"
-- Grumpys, Springfield, Missouri
"I stopped into the Columbus store for the first time and I was taken aback by the fantastic customer service – from the front door all the way to the loading dock. I bought a freezer and everyone was so helpful. It was a great experience. I will be back to buy my cooler. AAA++++"
-- Mootz Run, Alexandria, Ohio
"I am writing this letter to express my appreciation for the professionalism of your team in servicing me during the purchase and particularly the delivery of equipment I purchased from your business this month. First of all, your salesperson Lisa was most resourceful in assisting me and my partner...She took the time and answered our questions. She researched to make sure we were getting the right product for the intended use. ... Your staff and service have solidified me as an ongoing customer. Thank you very much."
-- Louisiana Creole Gumbo Restaurant, Detroit, Michigan
"I just wanted to drop a quick email letting you know what Top Notch customer service I've always recieved at your store! I've been a loyal customer for over 25 years and feel like Restaurant Equippers is a hidden gem in our city. I have never had any problems returning an item that was my fault in purchasing incorrectly. Keep up the great work!!"
-- Carsonies Stromboli & Pizza Kitchen, Columbus, Ohio
"Your staff has exceeded my expectations in this business. The process of ordering, shipping, and returns has all been excellent. I will certainly recommend your company to many other business owners."
-- Hot Off The Grill Catering, Benson, North Carolina
"Your salespeople were extremely helpful, knowledgeable about the equipment, and went out of their way to help me define my needs for a specific project I am working on."
-- Minuteman Pizza, Columbus, Ohio
"I commend you for having such highly motivated, efficient, and customer-oriented people on your staff. I am a new customer. After a 2 ½ hour drive in 96-degree heat, I had a pleasant surprise when I arrived at your store. The salesperson who helped us was pleasant, efficient, and a great guide to your products. [Minutes later], all of our items were waiting on the loading dock for us. I was in the corporate world for a long time as an executive with over 135 administrative assistants reporting to my organization; I would have been proud and fortunate to have your salesperson on my staff. She made me feel as if I were the most important person she had helped all day.
I will definitely be a long-time customer of yours… and I also plan to tell others about your fine company."
-- Zion Christian Retreat and Nature Center, Flushing, Ohio
---