Steam Tables & Accessories
Keep your food at safe temperatures with steam tables.
Find all the equipment you'll need to keep your restaurant, buffet, hotel, or school steam tables ready to serve your customers, whether you're serving on-site or away from your commercial kitchen. Choose from two, there, and four-well hot food tables.
Open well tables allow you to choose moist or dry heat, while sealed well tables don't require spillage pans. We carry liquid propane, natural gas, and electric hot food tables, so you'll be able to find the one that will fit your venue.
Check out our selection of steam table food pans, insets, and accessories.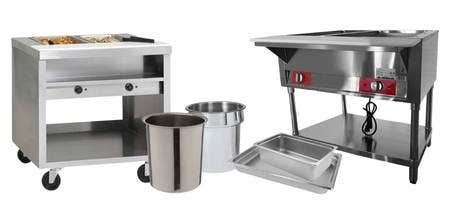 Recommended in Steam Tables & Accessories
Hot Food Tables & Accessories
When you're serving food buffet-style, at a hotel or school, or on location for a catered event, steam tables can help keep your entrees, sides, and deserts warm. After you pick out your new hot food table, you'll want to make sure you have all the accessories you need. Choose from our large selection of anti-jam stainless steel food pans, bain-marie pots, vegetable insets, as well as all the accessories, adapters, and food pan false bottoms you'll need. Find your next electric, natural gas, or liquid propane steam table at Restaurant Equippers.