Cafeteria and Buffet Equipment
CAFETERIA AND
BUFFET EQUIPMENT
Cafeteria and Buffet Equipment
Keep the line moving with cafeteria and buffet equipment from top brands at Restaurant Equippers. Find everything from serving counters, cold buffet tables, hot food tables, and milk coolers specially designed for your littlest customers.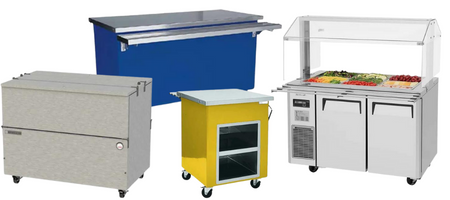 Cafeteria and Buffet Equipment
Find the cafeteria and buffet line equipment to keep your line of hungry customers moving. At Restaurant Equippers, you'll find everything you need to fully equip your cafeteria or buffet with the products you need from brands you trust, all at affordable prices. Our hot food tables and cold food tables will keep everything from pasta and pizza to a full salad bar at food-safe temperatures throughout your entire service time. They're designed to take standard food pan sizes from full-sized pans to configurations of smaller pans. Milk coolers give your customers easy access to cold beverages as they make their way through the line. Folding side doors give even the smallest students at your school easy access. Tray and dish dispensers keep your trays and dishes organized. Some models warm them. If you want mug and plate chillers, you can find them here. Our selection of steam tables is here. Don't forget the serving utensils!