Ranges
Commercial ranges come with burners and can also come with griddles or charbroilers to make your cooktop a more effective space. Many of our ranges come with different numbers of burners, as well as convection or traditional ovens to maximize the amount of cooking you can do in a given amount of space. Finish tricking out your range with a commercial salamander or cheese melter to give your sandwiches and appetizers that professionally browned and crisped appearance and texture.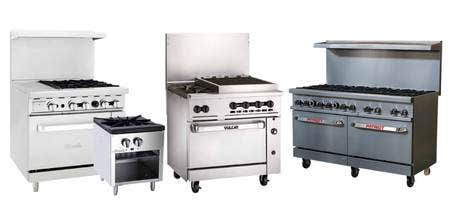 Restaurant Ranges: The Heart of Your Commercial Kitchen!
If there's one piece of cooking equipment a restaurant kitchen can't do without is a commercial range. Whether powered by electricity, natural gas, or liquid propane, ranges allow cooks to fry, steam, sauté, and boil food; with a built-in oven, they can also roast, cook, and bake. We carry models from single burner countertop stockpot ranges to massive 12 burner models with two ovens. If you want even more versatility, shop our selection of ranges with built-in griddles, charbroilers, or salamanders/broilers.