Mixers & Accessories
Commercial mixers are necessary for any bakery, pizzeria, or any other kitchen that makes dough on location. Find the right mixer for your needs, whether you're mixing eggs with a countertop mixer for a low-volume kitchen or making icings, batters, and doughs at a busy bakery with an 80-quart planetary mixer. Restaurant Equippers has the equipment you need for your restaurant or bakery.
Need a replacement mixer bowl or a beater, dough hook, or wire whip attachment? You'll find those here in one easy-to-shop location.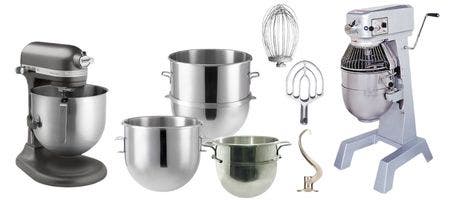 Recommended in Mixers & Accessories
Mixers & Accessories
Commercial mixers commonly come in two categories: planetary and spiral. Planetary mixers are the more versatile option. Capable of mixing cookie ingredients and other heavy doughs, or grating cheese, whipping meringues, slicing vegetables, and chopping meat, with the proper attachment, a planetary mixer is a powerful addition to your kitchen. Some of those attachments must be hooked up on the front of the mixer to its power hub.
Spiral mixers are also called dough mixers. These mixers use two motors to rotate their mixing hooks and the bowl. This process creates less friction or heat and gives you a consistent mixture that you have more control over. Spiral mixers are great for bakeries and restaurants that make large quantities of bread dough and for pizzerias to make pizza dough.
Immersion blenders are a third type of blender. Also called stick blenders, these handheld food prep tools are used to blend large batches of liquids, puree soups, mix sauces, and more.