Coffee and Tea
Coffee and tea service is so much more than just coffee pots, mugs, and urns. As an essential part of many businesses, you need a flexible set of tools, equipment, and supplies to meet the needs of your specific type of coffee and tea drinkers. This could be airpots for coffee on the go or coffee and tea brewers for your restaurant. You might need special equipment like a coffee press or frothing pitchers for your espresso bar. And don't forget the condiment supplies for things like sugar and cream. You can count on us to have what you need to be sure your coffee and tea service is perfect for your restaurant, bar, or other foodservice operation.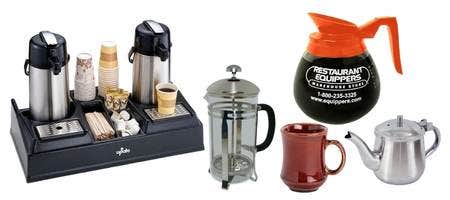 Recommended in Coffee & Tea
Equipment, Tools, and Supplies for Every Coffee and Tea Need
Keep the coffee and tea flowing with all the right equipment and supplies. Whether you run a full-service coffee shop or a diner with a couple of pots always at the ready, you'll find it all at Restaurant Equippers. Add cold brew coffee to your menu with our 3-gallon brewer and dispenser system, up your tea service with teapots and dedicated hot water dispensers. You can find coffee mugs here. And all sorts of other coffee and tea shop-related items here.