Condiment Dispensers & Servers
Condiment Dispensers & Servers
Top off your hamburger, fries, or ice cream cone with extra ketchup or hot fudge! Just be careful not to put hot fudge on your hot dog or ketchup on your ice cream sundaes! Multi-compartment dispensers are great for lemons, limes, and sugar packets, while sugar pourers and caddies allow customers to customize their iced tea and coffee. Squeeze bottles for mustard, ketchup, and ranch allow you to buy condiments in bulk to save money. Buy commercial restaurant dispensers for your diner, food truck, concession stand, and more!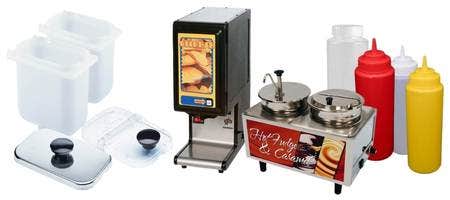 Condiment Dispensers, Rail System Topping Dispensers, and Squeeze Bottles! We Have Your Condiment Solution!
Make using condiments and toppings easier for your customers and employees. Rail systems behind your counter keep everything your cooks need to put the finishing touches on orders. Keep your hot fudge hot and your nacho cheese warm and ready to be used with our hot topping dispensers. Our selection of clear and colored squeeze bottles will let you easily access your toppings and sauces and buy them in bulk to save you money. If you're looking for sugar pourers and caddies, you can find them here.