Steamers
Using a Commercial Steamer yields benefits that stretch far beyond perfectly fluffed rice and crisply cooked vegetables. Commercial restaurant steamers are amazing at cooking seafood, poultry, large cuts of meat, and even bread. Steam a prime cut of steak, then finish searing it on the grill or griddle for a dish cooked to perfection and presented to your customer looking picture perfect.
With the right steamer, you can prepare everything from bacon to BBQ ribs and carrots to crab cakes. Water filters are also instrumental in keeping restaurant steamers working their best!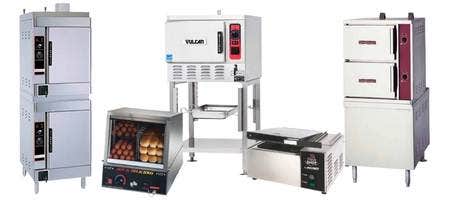 Offer Steamed Menu Items to Maintain Nutrients and Offer Healthy Choices!
Steam cooking equipment offers you an energy-efficient and quick way to cook many different types of food. Steaming doesn't require you to use fats like oil and butter to cook food, giving you healthier offerings for your customers. You'll find the right steamer to fit your kitchen here, with everything from a 16-3/4" countertop steamer to two and three-compartment cabinet base models. If you're looking for combination ovens you can them here, rice cookers here, and steamer microwaves here.