Maintenance & Janitorial
It's a dirty job, but we all have to do it. Maintenance is so much more than just a commercial dishwasher or a mop bucket. You may need bus supplies like bus tubs and bus carts to help keep your dining area neat and clean. Or you might need floor care equipment such as commercial vacuums, floor sweepers, brooms, and mops. But don't forget the sinks (especially the mop sink). And of course, you'll need restroom supplies, garbage cans, and all manner of cleaning supplies (like cleaning solutions, sanitizing pails and buckets, brushes, cleaning cloths, and spray bottles). But never fear! You can get all this and more in one convenient location, all at low warehouse prices.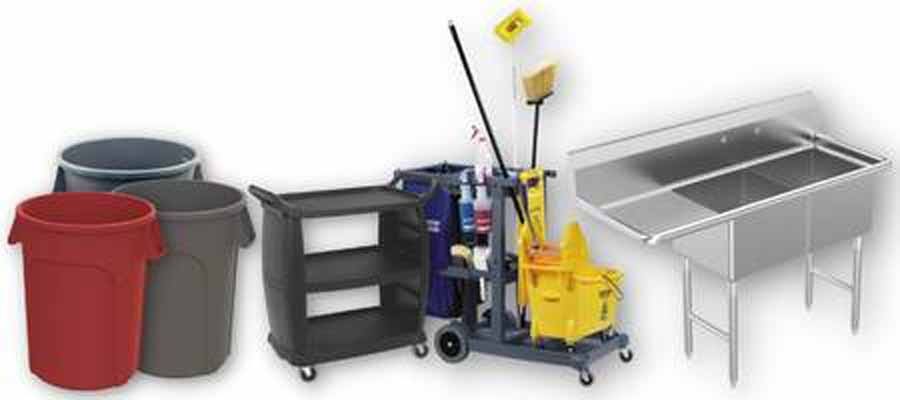 Recommended in Maintenance & Janitorial
Sinks and Maintenance Equipment Tools and Supplies for Every Need
Your new tables are put together, the new range is cooking, and the new reach-in refrigerator is humming. Keep your new restaurant equipment and furniture looking great by keeping it clean and sanitized. You'll find the supplies you need to keep your customers and staff safe and impress the health inspector. Restaurant Equippers carries janitorial supplies and equipment for every part of your restaurant, bar, or coffee shop. You'll find vacuum cleaners, floor sweepers, mops, bus carts, and bus boxes for your dining room. We have squeegees, dishwasher aprons and gloves, dishwashing racks, automatic dishwashers and glasswashers, sinks, faucets, and flatware organizers for your dishroom. Make sure your restrooms are stocked, clean, and sanitized for your customers. We have trash cans in all sizes perfect for your office, kitchen, or dining room. We have Toter rollout trash containers to help take trash bags outside.