Ovens
Ovens are an indispensable tool for any commercial kitchen. Whether it's a countertop pizza oven at a bar, a conveyor oven at a sandwich shop, or a convection oven in a bakery.
Keep your customers happy with delicious pizza, bread, toasted subs, and more with deck, conveyor, or combi ovens.
Deck ovens are also great for baking bread. Need a smaller oven for your bar or convenience store? Countertop pizza ovens are a perfect and versatile fit.
High speed ovens, also known as rapid cook ovens, and combination ovens, use multiple cooking methods to speed up cooking times.
Convection ovens are ideal for bakeries and other commercial kitchens and use fans to circulate hot air around the baking cavity.
Brands include Blodgett, Patriot, Cadco, Bakers Pride, Lincoln, Merrychef, Garland, and more!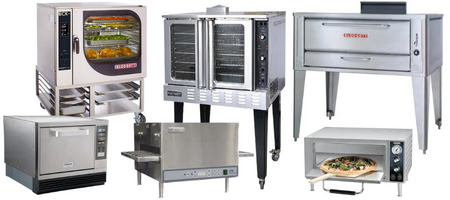 THE COUNTERTOP OVEN – A BARTENDER'S SECRET WEAPON!
If you can bake it, you can bake it in a countertop pizza oven! Pretzels, mozzarella sticks, wings, and open-face hot sandwiches can all be baked in an electric countertop oven. After hours when it's just your bartender and a skeleton crew, having a countertop oven available to bake small batches of appetizers will keep the customers happy and the sales flowing. Your patrons will keep coming back, knowing they can purchase a pizza or garlic bread along with their favorite late-night beers, ales, and mixed drinks! Is one countertop pizza oven not enough for your popular bar or restaurant? Then try our multi-deck, ceramic countertop ovens for twice the baking capacity!
Commercial pizza ovens are the heart of any pizza restaurant. With the ability to cook pizzas and calzones to bread and even roasts, these ovens have the power to produce the perfect product every time. When shopping for large pizza deck ovens, you have the option to decide between single or double-deck ovens depending on your desired product output.
Commercial convection ovens are the key ingredient in every recipe! No matter what you bake or cook – a restaurant-quality convection oven turns your ingredients into culinary masterpieces that will keep your customers coming back for more. A convection oven uses a fan to circulate hot air throughout the oven cavity, creating a consistent temperature and speeding up cooking times to keep your restaurant kitchen humming. Choose from our incredible selection of half-sized models and full-sized single and double-deck convection ovens. Most full-sized models are available in electric, natural gas, or liquid propane.
Find the foodservice equipment you need to bake the menu items that make your restaurant special. Don't forget to pick up cleaning accessories and gas hoses!