Prep Tables
Commercial prep tables are one of the first steps in transforming pure ingredients into amazing menu items such as sandwiches, subs, and pizzas. We offer a prep table configuration for every need. Pizza prep tables and sandwich prep tables help keep ingredients fresh by providing adequate refrigeration to compensate for the ambient temperature of your kitchen. We also offer extended cutting top sandwich prep tables to accommodate larger work areas. Do you need a replacement lid, a new cutting board, or more food pans? Be sure to check out our large selection of accessories.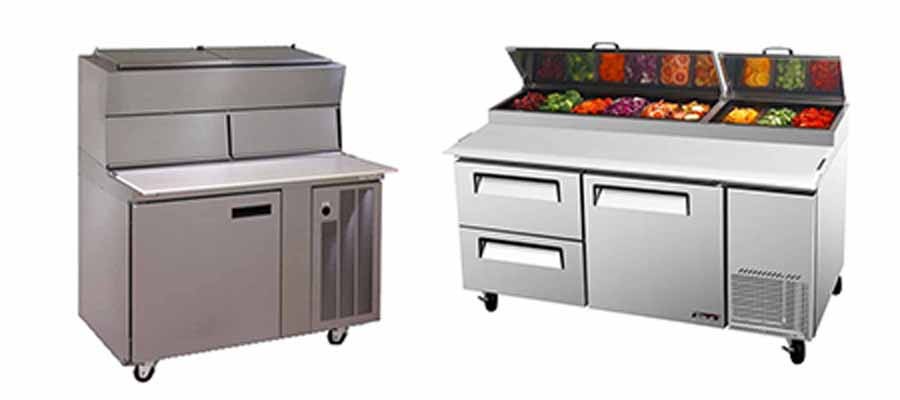 SHOP COMMERCIAL PREP TABLES, SANDWICH, AND PIZZA PREP TABLES AVAILABLE
Prep tables are convenient for assembling sandwiches, wraps, salads, pizzas, and other delicious creations. Commercial prep tables feature a covered, refrigerated ingredient well that holds standard-sized food pans. A hinged lid usually covers this section. The rest of the prep table's top is taken up by a cutting board area where you can assemble your sandwiches and pizzas and do some quick prep work on ingredients. Most models also have refrigerated storage sections under the counter for extra ingredients and ingredients that haven't been prepared. The storage is usually a hinged door reach-in, but some offer refrigerated drawers. Prep tables come in two categories: pizza prep tables and sandwich and salad prep tables. Pizza prep tables have large cutting board assembly areas to accommodate larger pizzas. The ingredient well on pizza prep tables is raised to make reaching over the larger cutting board to the ingredients easier. Sandwich prep tables also come in a mega top style with a larger ingredient well that holds more food pans. Prep tables give you a place to keep your most-used ingredients close at hand to quickly assemble your sandwiches, salads, wraps, pizzas, burritos, and other creations that use the same ingredients. If you're looking for other space-saving refrigeration, check out our undercounter and worktop refrigerators and freezers and our refrigerated chef bases.