Dining Room Supplies
Your dining room is the place where customers form their impressions of your business. Having the best restaurant dining room equipment, tools, and supplies can make the difference between a good impression and a poor dining experience. The items that help craft this experience range from glassware, dinnerware (plates), and flatware to serving trays, food baskets, and condiment supplies. You also need supplies for your waitstaff, including clothing items such as aprons and tools such as order pads, menu covers, and check holders. And let's not forget the furniture. Fortunately, you can meet all of those needs right here in one convenient location.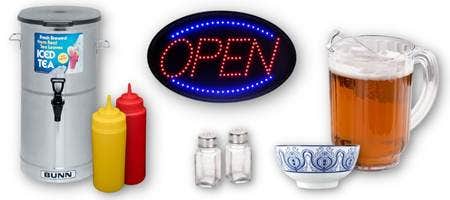 Recommended in Dining Room

Dining Room Equipment, Tools, and Supplies for Every Need
Your restaurant's front of house deserves just as much attention as the back of house. After all, it's the place your customers actually see. From the basics of the dining experience like beverageware, plates, and forks to the things your staff uses every day like aprons, cash registers, uniforms, and trays, you'll find it all here. We even have signboards, open signs, crowd guidance systems, and even wet floor signs, and the always important first aid kit.