Dinnerware
Dinnerware, often generically referred to as china, encompasses the categories of stoneware, ceramic porcelain, melamine, wood, and plastic dinnerware. From stoneware, porcelain, and melamine to wood and plastic, we have a large variety of dinnerware options from which to choose. Be it a plate for a main entree or a bowl for soup, we have what you need to present the best dining experience for your guests.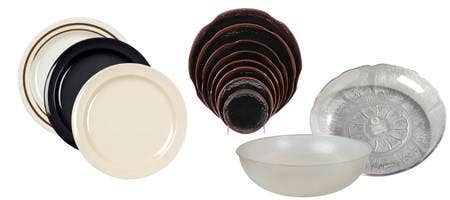 Recommended in Dinnerware
Dinnerware
When it comes to dinnerware for your restaurant, more than just looks should matter. When you pick out new plates and bowls, make sure they're the right fit for your establishment. A busy restaurant or diner with dishes constantly moving from the back of the house to your customers' tables to your dishwasher needs to be durable enough not to chip or crack under such demanding conditions. In places where it's more likely your plates and bowls will be dropped, like buffets, schools, and hospitals, buying large cases of affordable plastic or melamine dinnerware is always a great choice. But looks still matter. That's why you'll find stylish shapes, designs, and colors in our lines of heavy-duty melamine, lighter-weight melamine, plastic dinnerware, porcelain plates and dishes, stoneware, and wood dinnerware. Be sure you check how your choice can be cleaned and that they'll work with your current dishwashing machine.