Features a folding stand for easy storage and transportation
Includes lid, water pan and a full size 2-1/2" deep food pan
Accommodates 4" full size, 1/2 and 1/3 size food pans sold separately
Stainless steel construction with a plastic lid handle
Built-in lid holder
22-3/4"L x 13-3/4"W x 12"H
Fuel holders sold separately 
Bradford Hall 8-Quart Full Size Stainless Steel Chafer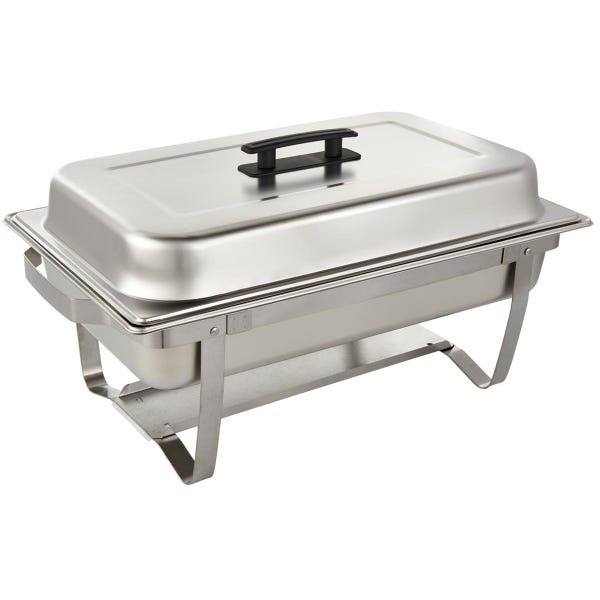 Bradford Hall 8-Quart Full Size Stainless Steel Chafer is a large, rectangular-shaped serving dish typically used in catering or buffet-style settings. It is made of stainless steel and has a capacity of 8 quarts, making it suitable for large events. This chafer includes a water pan, a full size 2-1/2' deep food pan, a lid, and a fuel holder for keeping food warm. These chafers are great to use in hotels, restaurants, caterers, and other similar venues to keep food warm while they are being served.
Features a folding stand for easy storage and transportation

Includes lid, water pan and a full size 2-1/2" deep food pan

Accommodates 4" full size, 1/2 and 1/3 size food pans sold separately

Stainless steel construction with a plastic lid handle

Built-in lid holder

22-3/4"L x 13-3/4"W x 12"H

Fuel holders sold separately

Chafer Fuel Compatible
What is a Chafing Dish?
You've seen them in hotel buffets, school cafeterias, at wedding receptions, showers and picnics. But what exactly is a chafing dish? It's so much more than just a pretty serving tray.
A chafer is a type of portable warming tray that is commonly used to keep food warm at events such as buffets or parties. It typically consists of a stand, a water pan, a fuel holder, and a cover.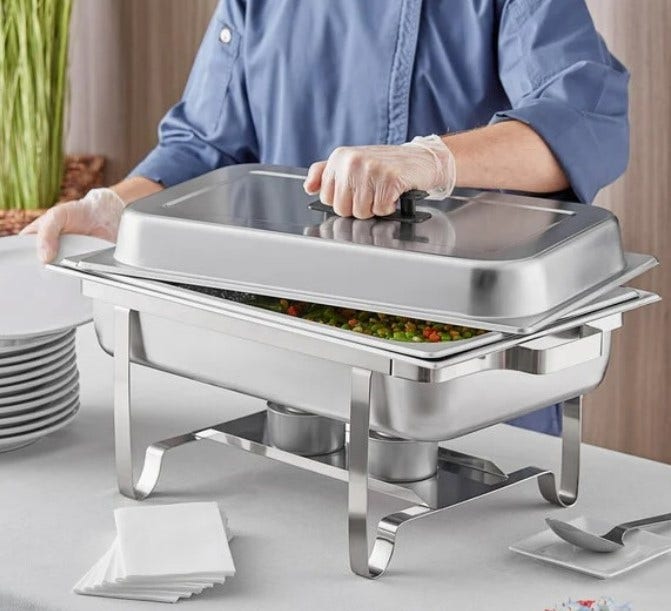 To use a chafing dish, follow these steps:
Fill the bottom pan of the chafing dish with water. This pan will act as a heat source to keep the food warm.

Place the food in the top pan of the chafing dish, also known as the food pan.

Place the chafing dish on a heat source, such as a stovetop burner or a warming tray.

Adjust the heat to the desired temperature. Typically, chafing dishes are heated with a tea light or sterno can.

Once the water in the bottom pan is hot, the food in the top pan will start to stay warm. Keep an eye on the water level, and add more as needed.

Once the event is over, turn off the heat and let the chafing dish cool down before cleaning it.
Note that different models of chafing dishes may have slight variations in the set up and usage, so it's a good idea to check the manufacturer's instructions.
More Information

| | |
| --- | --- |
| SKU | PA0019 |
| Cover Type | Lift Off |
| Shape | Rectangle |