Full back swivel bar stool
Single ring chrome base
Black vinyl seat with full back
500 lbs. weight capacity
Stool seat height 30"
16"D x 17"W x 42"H
Modesto Single Ring Swivel Bar Stool with Chrome Base and Black Vinyl Bucket Seat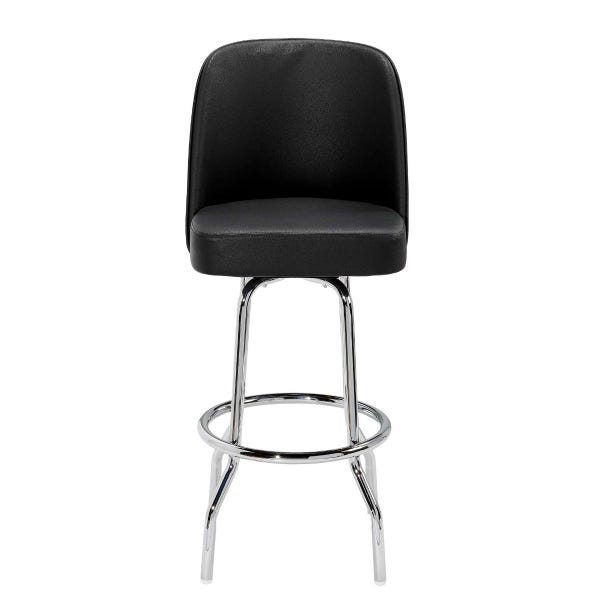 Introducing the Modesto Single Ring Swivel Bar Stool with a striking chrome base and a luxurious black vinyl bucket seat – a perfect fusion of style and functionality designed to elevate the atmosphere of restaurants, bars, pubs, breweries, and cafes. Crafted to cater to the discerning tastes of owners in the hospitality industry, this bar stool promises an exceptional seating experience that combines comfort, durability, and modern design.
Designed with your patrons in mind, the full-back swivel bar stool invites them to indulge in comfort while they enjoy your establishment's offerings. The single-ring chrome base not only adds a touch of contemporary elegance but also ensures stability and durability, making it suitable for high-traffic environments.
The black vinyl seat exudes a sense of luxury while also offering easy cleaning and maintenance, which is crucial in busy hospitality settings. Its ergonomic structure provides optimal lumbar support, enhancing overall comfort for extended use.
The bar stool's 500 lbs. weight capacity accommodates a diverse range of patrons without compromising on comfort or style.
Measuring 16"D x 17"W x 42"H, this bar stool strikes a balance between a compact footprint and comfortable seating. Its well-proportioned dimensions allow efficient space utilization, enabling you to optimize your seating arrangement while ensuring your customers' comfort. The stool's seat height of 30" aligns with standard bar counters, promoting a cozy and inviting atmosphere for socializing and dining.
The Modesto Single Ring Swivel Bar Stool with a chrome base and black vinyl bucket seat encapsulates the essence of contemporary hospitality. Elevate your establishment's ambiance and patron experience by selecting a seating solution that resonates with your brand's aesthetics and offers unmatched comfort. With meticulous craftsmanship and attention to detail, this bar stool is an investment that enhances the visual appeal, comfort, and functionality of your venue.
More Information

| | |
| --- | --- |
| SKU | 773803K |