How to Start a Professional Catering Business
If you're looking for a way to express your culinary creativity but want to avoid the grind of a day-in and day-out restaurant schedule, the catering business could be an excellent alternative.
Caterers provide food and drinks for events. They're hired by hosts to provide anything from a multi-course meal to light hors d'oeuvres. Sometimes food is prepared at the event space; other times, it is created in a remote kitchen and brought to the event. Some caterers own their own event space.
Running a catering company is less of a financial risk than a traditional brick-and-mortar restaurant. You can rent some of the equipment and the space you'll need to run it. Knowing the number of people you're serving lets you know how much food to buy, decreasing costly food waste and letting you know how many people you'll need to staff each event.
Catering does have some drawbacks. Since you're often preparing food at the venue or in a rented kitchen, you might need constant access to your preferred equipment.
Before you jump into the catering industry, keep reading for tips that will make the process easier.
Create a Concept
Specializing in a type of food can make it easier for you to find customers genuinely interested in your services. Make your menu something you're passionate about, like BBQ, desserts, soul food, finger foods, or anything you enjoy making.
Before you finalize your concept, make sure you've researched your area and know if your menu is of interest to your potential customers or if there are already caterers with the same concept. If so, how are you going to set yourself apart?
Look at your competitor's prices to see where you'll need to set yours. Look for potential kitchens to rent or a place to make your own.
After you have an idea of the catering market in your area, decide who your target audience should be. Three common categories caterers operate in are:
Social events: birthdays, reunions, weddings, charity events
Corporate events: office parties, staff meetings, conferences
Personal use: creating meal kits for clients to reheat at home, a small dinner party at a private home, or a special meal for a couple or family like an anniversary, date, or birthday
Asking your friends and family for advice or offering to cook for small events they're hosting is a great way to get experience and test concepts and recipes.
Create a business plan
A good business plan will help you segment your catering concept into an easily understood document for investors to read. Make sure to include the following sections:
Executive summary - A broad overview of your business plan. Write this last once you've fully developed the other sections.
Company description - Give details about your company's information. What level of service do you plan to give: just food or will you provide furniture rentals, or do you provide event space? What advantages do you have over your competitors? Brag about your new catering company here.
Concept and Menu - This can be pretty straightforward. Explain your concept and how it fills a need in the market. You'll want to include your menu here as well.
Market analysis - This is where you go into detail about the research you've done into competitors. You should also provide information about catering industry trends and the overall outlook of the market segment. Include information about potential customers and who your target audience is.
Organization and management - How will your company be legally structured? Who will run the company? Is that same person in charge of day-to-day operations? You should include an organizational chart if you have multiple levels of staffing and include information about specific people who have already agreed to fill those positions.
Staffing needs - Let your potential investors know how many people you'll need when you launch the company. You should also include these non-management positions in an extended organizational chart. Include a forecast of your staffing needs (including additional management positions) in this section. Detail what size your business will be when these new positions need to be added.
Advertising, Marketing, and Sales - While your marketing and advertising strategies should constantly be evolving, use this section to explain you're strategy at start-up. Include your social media plans (organic and paid), website mock-ups, and how you will locate, reach out to, and retain customers. Use this section to explain how you'll complete a sale and what will happen once you've booked an event.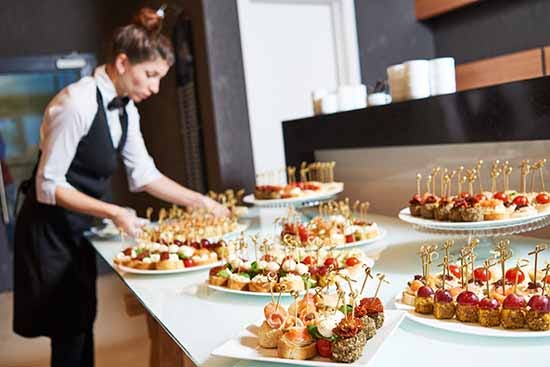 Funding request - This section will lay out how much investment you're looking for and how it will be used. Projecting these requirements over five years will give potential investors a good idea of where you think the business will head. Be sure to specify the type of investment you're looking for; is it debt or equity? Explain the terms you'd like to apply and how long the request will cover. Describe how you'll use the money. Are you going to buy equipment and supplies, cover specific bills, or pay your employees? You'll also need to include your future financial plans, like how you'll pay off debt.
Financial projections - This section details the financial outlook for your company, including opening costs, overhead expenses, and expected profit margins. The forecast should cover the same time frame as the projections in your funding request. Include projected payroll costs, equipment maintenance and replacement, and license renewals.
Appendix - The appendix of your business plan includes supporting documents or items that potential investors and creditors specifically requested. Some standard documents are pictures, licenses, permits, credit history, resumes, and other contracts pertinent to the business.
Acquire Licenses and Permits for a Catering Business
Before starting your new catering business, check to see what kind of permits and licenses you'll need to run a business and serve food. This will let you know the standards you'll need to meet when you apply and have inspections. Below we've compiled a list of some of the permits and licenses you might need, but your requirements will change depending on the services you provide and local and state regulations.
General Business License - You'll need this one. All businesses in the U.S. must have a business license.
Employer Identification Number - The IRS issues EINs. You'll need one to hire employees and acquire a tax ID number.
Health Permit - Before you're issued a health permit, a health inspector will visit the location where you prepare food. They'll make sure your kitchen is safe for food preparation and that you practice safe food handling processes.
Food Handler Permit - To get this permit, you must show that everyone who handles food in your business knows how to handle it safely.
Caterer Permit - Some localities require a catering permit in addition to the food handler permit.
Catering Business Insurance - Like all business insurance, this policy protects a company from accidents like automobile crashes, workers' compensation, kitchen accidents, and property damage.
Home Occupation Permit - If you plan to use your home kitchen for cooking food (if that's allowed in your area) or do any other business operations from your home, you'll need a home occupation permit.
Liquor Licenses - If you plan to have your employees serve alcohol, you'll need to make sure you have proper liquor licenses.
This is not a comprehensive list, be sure to check with your local health department and government to make sure you've acquired all the correct licenses and permits.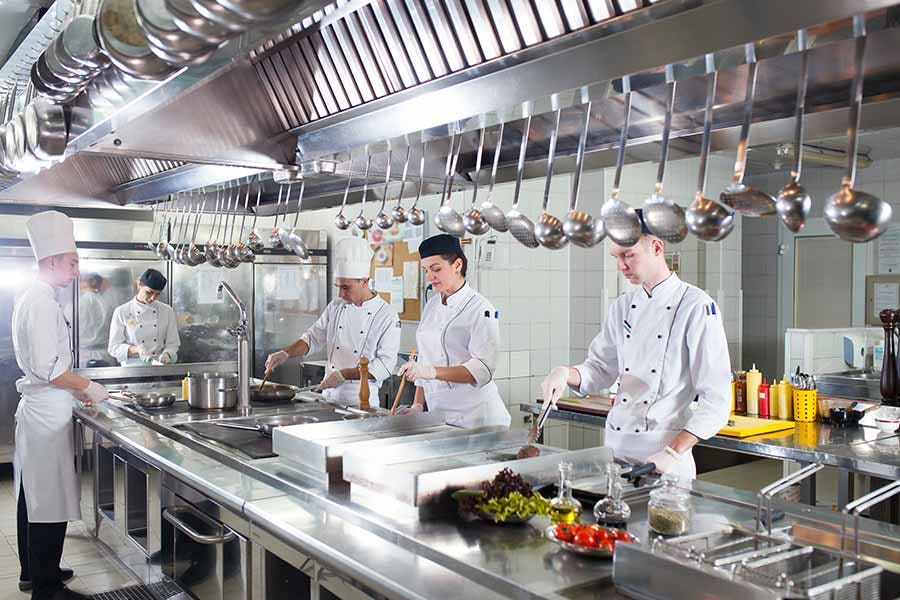 Develop and Test Your Menu
You may think you should find a place to work and cook from before you develop your menu, but first knowing what you're going to make, what equipment you'll need, and how much cold and dry storage space is necessary will mean you'll be happier in your kitchen and be able to stay there longer.
As you create your menu, include items that appeal to a wide range of tastes. While adhering to your concept is good, making your menu appealing to a broad swath of people gives you a larger potential customer base. As you develop recipes, keep in mind dietary restrictions like dairy-free, vegan, gluten-free, and low-carb. Making dishes that can easily be adapted to meet these restrictions will make your menu more versatile.
Before launching your business, test your menu to get feedback to make sure you're not missing something. Offer to cook for a group of family and friends or provide food for a small event. Provide a way for people to offer anonymous feedback on the menu. People are likelier to be honest when providing anonymous feedback than talking to you face-to-face.
Find a place to Cook and Work
Running a catering business out of your home often is only possible by significantly modifying your kitchen and home. Renting or building kitchen space is usually the easiest way to go.
The amount of business you do will determine which option is best. If you have a low-volume catering company and only work a few days a week, renting a commercial kitchen space might be the best option.
The more business you do, and the more time you spend cooking, staging, and planning for events, the more likely you'll need your own space.
By having your own space, you'll have 24/7 access and be able to equip it with the specific equipment and supplies you need. You'll also be able to arrange the equipment and storage space how you want.
No matter which space you choose, consider where you'll conduct tastings for potential customers. That could include a separate area near your kitchen or a different storefront location. Both options will have to be inspected and may require their type of permits and licenses.
Buy Catering Equipment and Supplies
Now that you've developed your menu and found your kitchen space, you're ready to purchase the equipment and supplies you'll need to make and serve your culinary creations.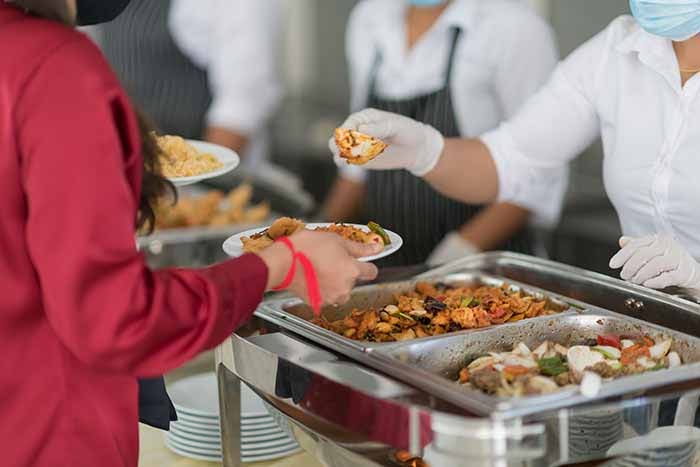 Let your menu dictate what your buy. That way, you won't purchase expensive equipment that ends up collecting dust. As your business grows and your menu expands, you may need to add equipment to accommodate the increased capacity or more specialized equipment to make new menu items.
Check out our catering supplies and equipment checklist to help you decide what you'll need to purchase to start your business.
Transport supplies - Insulated food pan carriers, glass racks, and

carts

Cooking and holding equipment - Induction cookers, portable grills, electric and gas hot plates, holding cabinets, and cookware
Serving Equipment -

Serving trays and stands,

chafers, serving utensils, and food pans
Beverage supplies - Insulated beverage dispensers, beverage dispensers, coffee urns, coffee airpots
Tables and Chairs - Folding tables, folding chairs, stack chairs, and

portable bar
Advertise and Market Your Catering Company
One of the most important things you can do when you start your business is to advertise and market it to potential customers. You already have an idea of your target audience from your business plan; now, you have to find ways to reach them.
If you're interested in catering weddings and other social events, having booths at bridal expos will give you exposure to future brides, grooms, and wedding planners. Expos will also allow you to network with other companies involved in the wedding industry. Also, consider hosting an open house tasting and inviting event planners.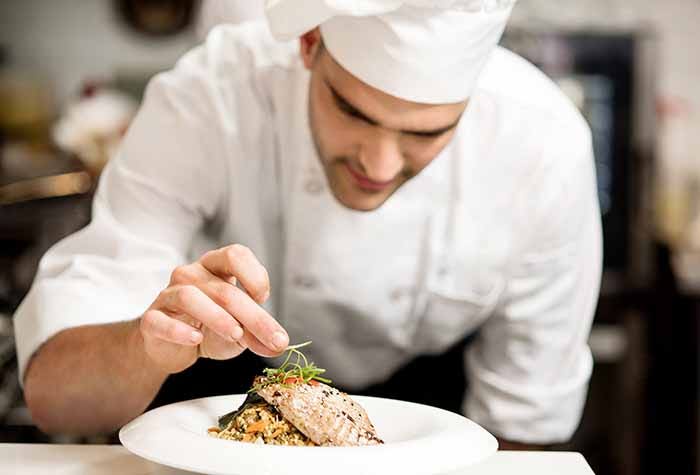 Basic marketing tactics you should consider are:
Have a website and social media accounts. Having a professional website separate from social media accounts lets you control how potential customers see your business. Social media accounts allow you to interact with customers in spaces they already exist.
Have booths at local fairs and events where you can offer tastings.
Create a logo that incorporates your business name and concept.
Using the steps above and others more specific to your circumstances, your new catering business will be in a solid place to start your dream career with your amazing menu.