Pressure frying seals in moisture while sealing out excess cooking oil
Shorter cook times and lower cook temperatures
Built in oil filtration system
Electric Pressure Fryer
Several electrical configurations available
Utilizes a lid that is lowered over the fry pot and sealed to create a pressurized cooking environment yielding a healthier more flavorful product
48 lb. oil capacity
Computron 8000 digital controls with 10 programmable cook cycles
Patented lid-lock system keeps lid locked until pressure reaches 1 psi
Color-keyed locking spindle makes it easy to create a perfect seal every time
Capable of frying 32-36 pieces of bone-in chicken per batch
Fryer includes built-in filtration system basket and casters
Power cord and plug must be installed on site by a qualified electrician
19"W x 39"D x 48"H
Overall height with lid up: 62"H
2-year parts, 1-year labor, 7-year limited pot warranty
Ship times may vary due to supply chain constraints. Please contact us at 888-430-1655 for estimated lead times.
Henny Penny PFE-500 Electric Pressure Fryer with Computron 8000 Controls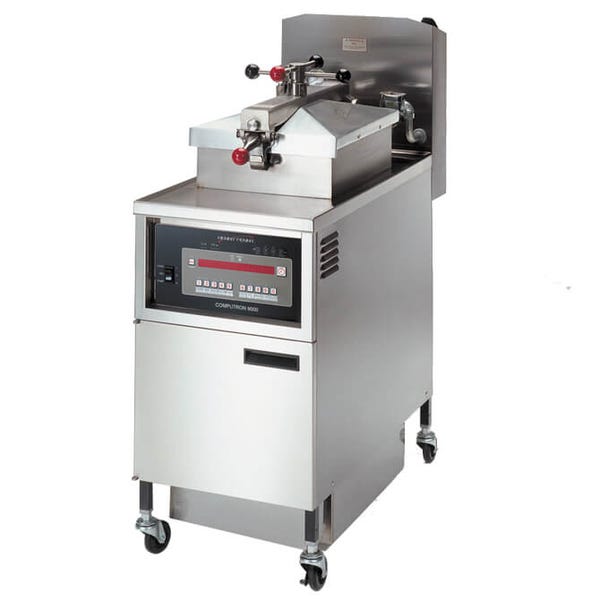 Product Details
The sight, smell and taste of rotisserie chicken can add significant impact and sales to your store. With such a powerful appeal to the senses, choosing your equipment is critical. But why choose Henny Penny rotisseries? You'll get more of those delicious whole birds, ribs, pork roasts and other center-of-the plate items every day because the Henny Penny rotisserie simply cooks faster. THERMA-VEC Even Heat Process combines cross-flow convection cooking with radiant heat. The result is thorough, even cooking with uniform browning in a lot less time than other rotisseries. The single cabinet SCR 8 countertop rotisserie saves on floor space while cooking up to 40 whole birds in a single load! The stacked SCR 16 doubles that production—a massive 80 whole birds per load—from the same footprint, while providing the flexibility of two independently operated rotisseries.

With 9 available cook cycles (per cabinet) and choice of browning level, chefs can dial up just the right color and crispness for seasoned and marinated meats, fish and poultry… every time! Easy-to-use controls feature LED displays and probe cooking. Units can be configured with various features on control side and customer side. Spits, rotor disks, drive tube and drip trays remove easily for cleaning and are made with coated surfaces for easy cleanup. Henny Penny offers a host of accessories including mobile loading stands, product display units, and merchandising bases that increase productivity and impulse sales.
Standard Features
THERMA-VEC Even Heat Process cooks full loads quickly and evenly
Gentle, cross-flow convection for even cooking throughout cabinet
Radiant heat for uniform browning and crisp texture
Easy-to-use touch key controls with large LED simultaneous time and temperature display
9 programmable cook cycles for each cabinet, 18 total for SCR 16
Programmable browning and texture control • Food temperature probe
Tempered clear glass doors with black matrix shaded borders
• Rotation stops automatically when doors open
Spit rotation switch for easy loading
Interchangeable spits, racks or baskets
Simple three-piece drive tube and rotor assembly
Drive assembly, drip trays and drain pans disassemble easily for quick cleanup
Coated spits and interiors for easy cleaning
Stainless steel construction for easy cleaning and long life