White rarebit baking dish
12 oz. capacity
Porcelain Material
Chip Resistant
Welsh Dish
Oven Safe
Microwave Safe
Dishwasher Safe
By International Tableware
ITI WRO-12-AW 12 oz. White Rarebit Baking Dish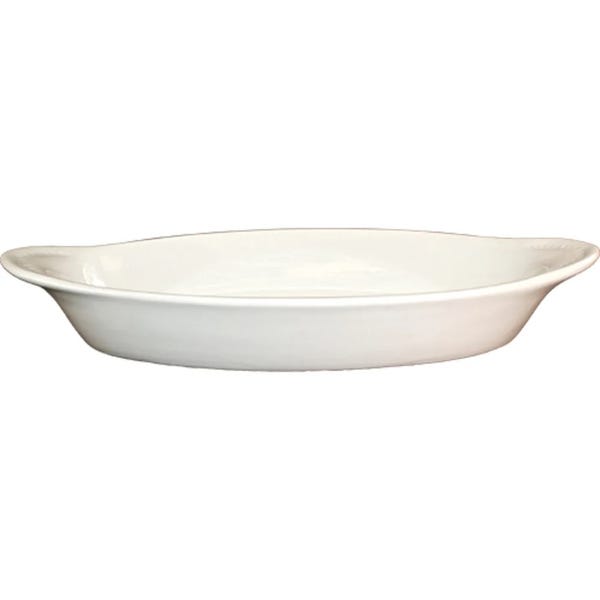 ITI WRO-12-AW is a white rarebit baking dish that is manufactured by International Tableware Inc. (ITI). The dish has a 12 oz. capacity, which makes it suitable for serving one or two people. It is made of porcelain, a type of ceramic that is known for its durability, heat retention, and resistance to chipping. The dish is white in color, which gives it a clean, classic look that can match any table setting.
This Rarebit Casserole Baking Dish is typically used for baking Welsh Rarebit, which is a traditional English dish made with a savory cheese sauce that is poured over toast or bread. The dish is designed to hold 12 ounces of Welsh Rarebit, making it an ideal size for individual portions or small servings.
In addition to Welsh Rarebit, this baking dish can also be used for other baked dishes, such as macaroni and cheese, baked eggs, and other small casseroles. The white color and classic design of the dish make it suitable for a variety of cooking and serving applications, both in the kitchen and at the table.
Overall, the ITI WRO-12-AW 12 oz. White Welsh Rarebit Casserole Baking Dish is a versatile and practical baking dish that is ideal for a range of cooking and serving tasks. Its classic design, small size, and durability make it a useful addition to any kitchen.
The dish is oven safe and microwave safe and dishwasher safe.
More Information

| | |
| --- | --- |
| SKU | 229193 |