Ellipse blending system with enclosure
Blends 10 second smoothies and 15 second bowls!
The only fully automated blending solution that is powered from the top-down
32 oz. copolyester container
Independent dual-motor system
New and improved sound enclosure to further help reduce noise and vibration
Powerful 3.5 HP, 30K RPM motor
Electronic-membrane keypad with blue backlit LCD screen
Adjustable speed controls and four programmable beverage stations
Dual pulse feature with reprogrammable speed control
Includes a docking station and a charging station
120V/60Hz/1500W
10-1/2"W x 14-1/2"D x 20-1/2"H
Waring MXE2000 Xtreme 3-1/2 HP Ellipse Blending System with 32 oz. Copolyester Container and Enclosure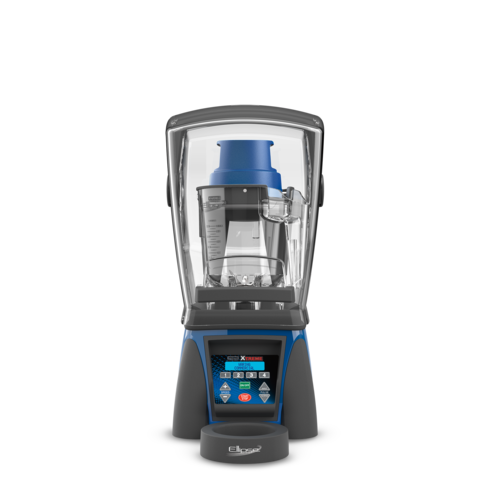 The Waring Commercial MXE2000 Ellipse Blending System is designed to save you time and money. The new Ellipse drive and dasher system speeds up the blending process by rotating the dasher around the edge of the container, pushing ingredients back into the blades, reducing blend time and the need to stop and scrape ingredients off the jar walls.
The Ellipse also takes advantage of Waring's strongest and most powerful blender base, the MX1500. The base features a 3.5 HP, 30K RPM motor, an electronic-membrane keypad with a blue backlit LCD screen, four programmable beverage stations, adjustable speed controls, and a dual pulse feature with reprogrammable speed control.
The lithium-powered Ellipse drive has two modes you can choose from to power the dasher:
Manual mode allows you to choose between 10, 15, or 20 seconds of operation via buttons on top of the drive.
Auto Start automatically runs for 30 seconds, beginning when the sound enclosure is shut.
One two-hour charge of the Ellipse drive gives you a full day of operation. Large-volume establishments may want more than one drive and a triple charging station
The improved sound enclosure design means you get the power of a commercial-strength blender without all the noise.
The Ellipse's independent dual-motor system speeds up the blending process and ensures every blend is consistent and fast.