Pressure frying seals in moisture while sealing out excess cooking oil
Shorter cook times and lower cook temperatures
Built in oil filtration system
Electric Pressure Fryer
Several electrical configurations available
Utilizes a lid that is lowered over the fry pot and sealed to create a pressurized cooking environment yielding a healthier more flavorful product
48 lb. oil capacity
Computron 1000 simple programmable digital controls
Patented lid-lock system keeps lid locked until pressure reaches 1 psi
Color-keyed locking spindle makes it easy to create a perfect seal every time
Capable of frying 32-36 pieces of bone-in chicken per batch
Fryer includes built-in filtration system basket and casters
Power cord and plug must be installed on site by a qualified electrician
19"W x 39"D x 48"H
Overall height with lid up: 62"H
2-year parts, 1-year labor, 7-year limited pot warranty
Ship times may vary due to supply chain constraints. Please contact us at 888-430-1655 for estimated lead times.
Henny Penny PFE-500 Electric Pressure Fryer with Computron 1000 Controls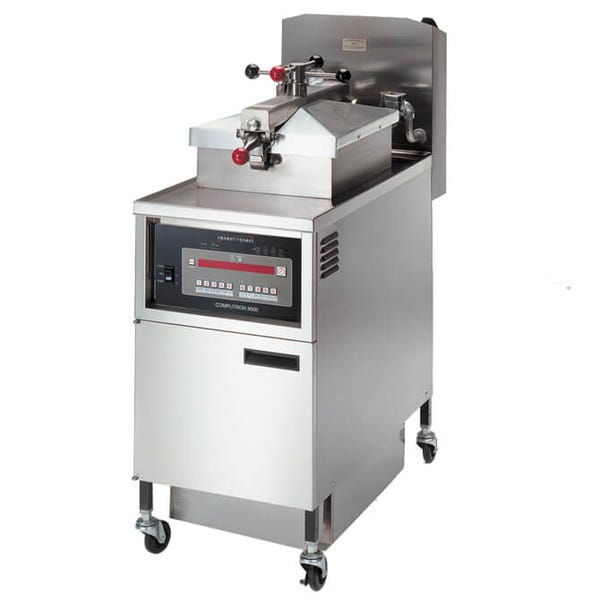 Henny Penny first introduced commercial pressure frying to the foodservice industry more than 50 years ago. Frying under pressure enables lower cooking temperatures for longer oil life, and faster cooking times to meet peak demand. Pressure also seals in food's natural juices and reduces the amount of oil absorbed into product. Today,Henny Penny pressure fryers continue to lead the industry in performance, durability and innovation. The Henny Penny PFE 500 remains one of the most popular and reliable pressure fryers on the market. Operators can choose either low or high wattage immersed heating elements that generate fast temperature recovery and welcome energy savings. Henny Penny pressure fryers have a patented lid lock and color-keyed spindle that make it easy to create a perfect pressure seal every time. A built-in filtration system filters and returns hot frying oil in minutes. No separate pumps and pans, no handling hot oil.
Standard Features
Patented lid-lock system keeps lid locked until pressure reaches 1 psi
Color-keyed locking spindle engages pressure seal •
Heavy-duty stainless steel fry pot with 7-year warranty
High-efficiency heating elements generate fast recovery and energy savings
Rectangular fry pot design promotes turbulence for even cooking
Cold zone below heating elements helps extend oil life
High-limit temperature protection
Built-in filtration system
Cast aluminum alloy lid is strong but light for easy handling
Channel under lid directs condensation away from pot when lid is up
Raised edge on deck reduces spills
Stainless steel construction for easy-cleaning and long life
Narrow footprint saves floor space and cookline frontage
4 heavy-duty casters, 2 locking
Computron™ 8000 control (additional charge)
- 10 programmable cook cycles


-

Melt mode


-

Idle mode


-

Clean-out mode


-

Water detection alert


-

Load compensation


-

Proportional control


-

Optional filter prompt and customizable filter tracking


-

16-character digital display with multiple language settings
Computron™ 1000 control
- Programmable
- LED Time/Temp display
- Simple UP/DOWN arrows