Easy Lettuce Cutter chops mounds of fresh crisp lettuce
1" x 1" cut size
Stainless Steel Scalloped Blades
Non-Slip Feet
Cuts a case of cored lettuce in less than 3 minutes!
Easy Cleaning
Made in America
By Nemco
Nemco 55650 Easy Lettuce Kutter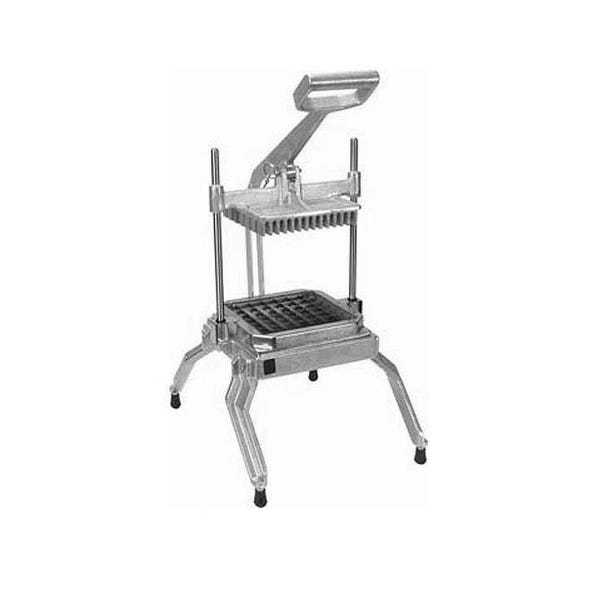 Cuts mounds of crisp, fresh, lettuce in seconds!
The Beauty Is in the Blades
Nemco engineers designed a system that was highly effective, but easy on both the blades and the food.
Interlocked blades nested in the frame don't suffer from flexing.
Pretensioned blade assemblies are easy to change out, with little or no blade tensioning required.
Scalloped blade edges have been added to some assemblies for cleaner cuts and no crushing or bruising - lettuce stays fresh longer with no rusting or browning. Easy to Use. Easy to Clean. Get long-lasting performance for maximum ROI.
Angled, cast aluminum legs with no-slip feet provide a stable cutting platform, for fast and easy precision cutting with minimal wear on the unit.
This is the only lettuce cutter on the market that allows the blade and pusher head to come apart for cleaning without tools. Just pull one pin to remove the pusher block, then lift the blade assembly out with ease.
All stainless steel and aluminum-cast construction
Suggested Uses
Ideal for chopping iceberg and other lettuces, as well as slicing melon for fruit trays. Also slices lettuce for tacos, subs and other sandwiches, and cooked chicken for wraps and salads.